Most of the items we need for daily life are transported via sea, with freight ships following thousands of routes between the world's 800 ports. However, only 49 main logistics ports play a significant role in the majority of global maritime trade.
This article covers the top 49 logistics ports worldwide, delving into the reasons behind their ranking.
Our list of the top 49 container ports, compiled with the assistance of the World Shipping Council, reveals that Asia is home to the majority of the top shipping container ports.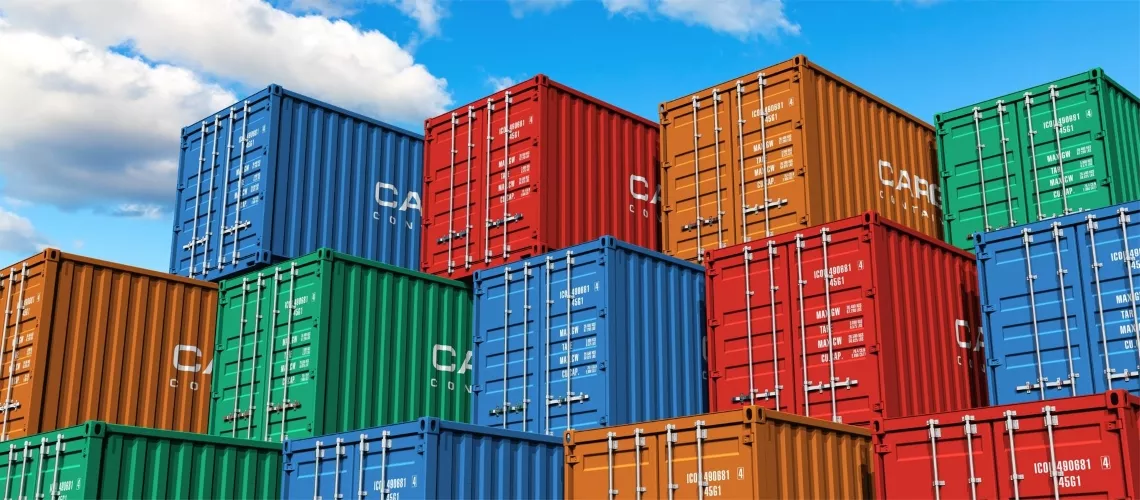 | # | Container Port | Country | Location | Region | Area |
| --- | --- | --- | --- | --- | --- |
| 1 | Shanghai | China | Delta of the Yangtze River | East Asia | 3,619km² |
| 2 | Singapore | Singapore | Strait of Singapore | Southeast Asia | 6.200km² |
| 3 | Ningbo-Zhoushan | China | Delta of the Yangtze River | East Asia | 9.365km2 |
| 4 | Shenzhen | China | Delta of the Pearl River | East Asia | 3.730km2 |
| 5 | Guangzhou | China | Delta of the Pearl River | East Asia | 6.879km2 |
| 6 | Busan | South Korea | Strait of Korea | East Asia | 2.907km2 |
| 7 | Qingdao | China | Yellow Sea | East Asia | 6.133km2 |
| 8 | Hong Kong | Hong Kong | Delta of the Pearl River | East Asia | 2.790km2 |
| 9 | Tianjin | China | Yellow Sea | East Asia | 131.0km2 |
| 10 | Rotterdam | The Netherlands | Delta of the Rhine River | Europe | 127.1km2 |
| 11 | Jebel Ali, Dubai | UAE | Gulf of Persia | West Asia | 134.7km2 |
| 12 | Port Klang | Malaysia | Strait of Malacca | Southeast Asia | 9.639km2 |
| 13 | Xiamen | China | Strait of Taiwan | East Asia | 18.90km2 |
| 14 | Antwerp | Belgium | Delta of the Scheldt River | Europe | 120.7km2 |
| 15 | Kaohsiung | Taiwan | Strait of Taiwan | East Asia | 5.204km2 |
| 16 | Dalian | China | Yellow Sea | East Asia | 15.02km2 |
| 17 | Los Angeles | USA | US West Coast | North America | 30.00km2 |
| 17 | Hamburg | Germany | Elbe River | Europe | 43.31km² |
| 19 | Tanjung Pelepas | Malaysia | Strait of Johor | Southeast Asia | 7.831km² |
| 20 | Laem Chabang | Thailand | Gulf of Thailand | Southeast Asia | 10.41km² |
| 21 | Yokohama | Japan | Bay of Tokyo | East Asia | 73.00km² |
| 22 | Long Beach | USA | US West Coast | North America | 13.00km² |
| 23 | Tanjung Priok | Indonesia | Java Sea | Southeast Asia | 10.28km² |
| 24 | New York/New Jersey | USA | US East Coast | North America | ~40.00km² |
| 25 | Colombo | Sri Lanka | Laccadive Sea | South Asia | 4.856km² |
| 26 | Saigon | Vietnam | South China Sea | Southeast Asia | 2.630km² |
| 27 | Suzhou | China | Delta of the Yangtze River | East Asia | n/a |
| 28 | Piraeus | Greece | Aegean Sea | Europe | ~39.00km² |
| 29 | Yingkou | China | Liaodong Bay | East Asia | ~15.00km² |
| 30 | Valencia | Spain | Western Mediterranean Sea | Europe | ~6.00km² |
| 31 | Manila | Philippines | Manila Bay | Southeast Asia | 1.375km² |
| 32 | Taicang | China | Delta of the Yangtze River | East Asia | ~80.00km² |
| 33 | Hai Phong | Vietnam | Delta of the Red River | Southeast Asia | 0.993km² |
| 34 | Algeciras | Spain | Strait of Gibraltar | Europe | 1.032km² |
| 35 | Nhava Sheva | India | Arabian Sea | South Asia | 2.770km² |
| 36 | Bremen/Bremerhaven | Germany | Weser River | Europe | 15.79km² |
| 37 | Tanger Med | Morocco | Strait of Gibraltar | North Africa | 3.650km² |
| 38 | Lianyungang | China | Yellow Sea | East Asia | n/a |
| 39 | Mundra | India | Gulf of Kutch | South Asia | 5.400km² |
| 40 | Savannah | USA | Savannah River | North America | 12.40km² |
| 41 | Tokyo | Japan | Bay of Tokyo | East Asia | 63.25km² |
| 42 | Rizhao | China | Yellow Sea | East Asia | n/a |
| 43 | Foshan | China | Delta of the Pearl River | East Asia | 0.313km² |
| 44 | Jeddah | Saudi Arabia | Red Sea | West Asia | 12.00km² |
| 45 | Colón | Panama | Bay of Limon | Central America | 2.690km² |
| 46 | Santos | Brazil | South Atlantic Ocean | South America | 7.800km² |
| 47 | Salalah | Oman | Arabian Sea | West Asia | 10.71km² |
| 48 | Dongguan | China | Delta of the Pearl River | East Asia | 52.0km² |
| 49 | Beibu Gulf | China | Beibu Gulf | East Asia | n/a |